Virgin Burmese Hair is very high quality and soft. The texture of the Burmese hair is well suited for African Americans. This geourgous unit resembles african american relaxed hair. YAKI STRAIGHT is a medium-low lustre texture that perfectly mimics freshly relaxed, bone straight virgin hair. Not too silky, not too coarse. It is realistic, and blendable with your relaxed leave out. Full lace wigs give you the opportunity to make your dreamy hairstyles come true!
Item No.:

8ABLW006

Hair Type?

100% Top Quality 8A Grade Burnese Virgin Hair

Hair Colors?

Natural Color, #1, 1B, #2, #4...etc. * Please select "natural color" if want to dye the hair

Hair Curl

Yaki Straight

Hair Style

Freestyle, which gives you the ability to part anywhere on the cap

Hair Density

90% at front and perimeters, and gradually to 120% throughout

Lace Color?

Light brown lace (works with most skin tones)

Cap Size?

Small (cir.21.5 inch) Medium (cir.22.5 inch) Large (cir.23.5 inch)

Cap Design?

Cap#2 Full Lace with stretch for max durability&elasticity, allowing high ponytail&adjustable perfit fit.

*Elastic straps or draw strings can be added on the full lace cap to make it glue-less

Hairline?

Amazing natural hairline, with realistic shaped temples and slight sideburns. Entire natural looking!

Baby Hair

Around the perimeters

High Ponytail

Yes. The versatility allows it to be worn in a variety of styles including a high ponytail and up do.

Receiving Time

2-4 work days
All TsingTaoHair's full lace wigs are made of 100% human virgin hair, such as straight human hair wigs, curly human hair wigs and wavy human hair lace wigs. Quality comes first and you will find a full lace wig perfect for you!
TsingTaoHair's Burmese hair comes from the country of Burma. Burmese hair is healthy and extremely resilient. It lasts for a long time. Burmese hair is cross between Chinese and Indian hair and it gives you endless styling options. It has NOT been mixed with synthetic hair or hair from different origins. TsingTaoHair's 100% Pure Burmese Hair has never been chemically treated and it will last well over 12 months when properly maintained with care.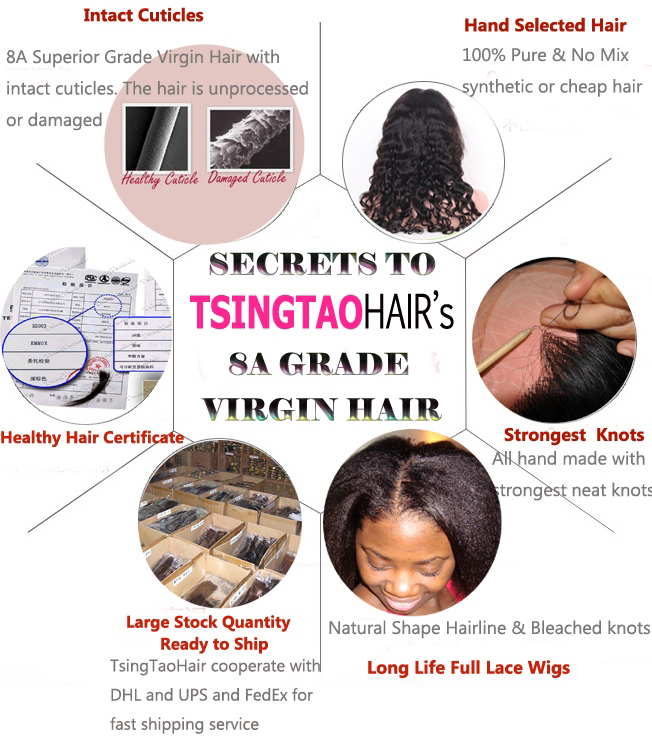 We offer 4 full lace cap designs for our in stock full lace wigs. All of them support most natural looking and high ponytail, giving the ability to part anywhere you like. It's worthy to mention that the glueless full lace wigs can be worn without glue or tapes and they are easy to be taken on and off. We can also add thin skin in the front, sides and back of the full lace wigs or add thin skin to the area as desired so that the glue won't stick to the hair.
TsingTaoHair offer optional service of adding front bangs or adding widow's peak to satisfy all your needs. You can enjoy the happniess of different styles bring you. We provide many different full lace wigs and glueless full lace wigs. Definitely you will find a full lace wig perfect for you!
All lace wigs from Tsingtaohair have amazing natural hairline, with realistic shaped temples and slight sideburns. It looks good and feels gorgeous, perfect for someone looking for an entirely natural appearance! None will find you are wearing a wig!!!
1. Professional Lace Wig Factory Since 1994, having Abundant Producing Experience and good reputation in the lace wig industry.
2. 100% Top Grade Quality Human Hair. No Mixed, No Fibre! All hair is hand selected for high quality assurance. Quality Comes First and Guaranteed!
3. Strict Quality Control. Every product must reach the high quality grade. We won't let any unqualified unit out of our factory no matter how little the problem is!
4. We are wig factory and provide high quality wigs at most competitive prices. Our goal is to gain loyal customers who keep coming back by offering best quality lace wigs at most affordable prices. Most of our customers are wholesalers, trade companies, wig shop owners, hair salon owners…etc. Our profit of each hair unit is very limited.
5. Bulk Stocks for your urgent need! Fast shipping to ensure you'll get your order on time.

Our Quality Control Dept. was established in 1994. It is under the direct control of the General Manager and professional Quality Controllers and experienced hair professionals. The team is technically well qualified and has abundant testing experience.

Tsingtao Hair Corp realizes three stages of quality control system:
(I) Your order forms will be translated into Chinese after receiving. Tsingtao Hair Corp will ask you questions or ask for your confirmation, if we can't understand the order forms completely or there is any discrepancy for the order . After being translated, the orders forms will be checked by another person to see whether order forms have been translated properly.
(II) The order will be processed or produced in the workshop and there is very strict inspection for quality throughout all the producing process.
(III) Before shipment, the quality control department and international trade department will check the order twice to insure every product must reach the high quality grade. We won't let any unqualified unit out of the factory no matter how little the problem is.
We will inform you when your order is placed successfully and email you the tracking number after shipping. For stock order, we can ship in 1-2 days after payment is made. To check the shipping time and shipping rate, please click here
Please read our wig manual & booklet when you receive the order. Instructions on how to apply & remove & wash & care your full lace wigs and lace front wigs are included with each lace wig.
If you're not satisfied with the unit when you receive your stock order, please contact us by email info@tsingtaohair.com within 48 hours to make application of" return or exchange" and please keep the unit exactly the same condition as you just receive.